Owner & Administration
Steve Risdal
Owner
I have had the great privilege of owning both Greeley Harley-Davidson® and Wild West Motorsports since 2002. I know I have a fantastic and dedicated team and that my team works hard every day making sure our customers are taken care of. I never get tired of interacting with my staff and customers and meeting new people along the way.
Ryan Smith
General Manager
Having been in the motorcycle industry for 17 years, I can say this is home for me. I have a beautiful wife, Gio and we share 3 pups who we love with all our hearts. We enjoy traveling together, being with friends and family as well as excercising. My favorite part about our profession is the moment you can tell you've made someone very, very happy. For most of our customers, getting a new toy is something they've been waiting for a lifetime. Seeing the youth get to participate in powersports is also very rewarding.
Sarah Palombo
CFO
Sarah has been with our company since 2016. She loves working with our awesome team especially being able to work with her sister.

Sarah loves baking cookies, creating floral arrangements for weddings and events and spending time with her family, husband Bryson and friends.

She also has a love for the outdoors when it comes to camping, exploring and getting out on a four wheeler. She and Stephanie combined are a force to be reconed with and could give anyone a run for their money when it comes to the trails!
Anastasiya Daigle
Office Manager
Anastasiya came down from Casper Wyoming. She's new to the motorcycle industry but has 13 years accounting experience. And even after all that time she still loves what she does especially with the new twist of adding motorcycles and ATV's into the mix.

Her favorite things to do here are making deal jackets, completing day end and sending out checks. When she's out of the office you can find her hiking with her pups, enjoying a beer with dinner on the patio or getting out to go boating and fishing.
Charlie Hearon
Marketing Manager and Programs Manager
Charlie was born in New Jersey and currently lives in Fort Lupton. She has 5 years of retail experience and has found a love for the Harley-Davidson lifestyle, the people it draws in and picking new outfits.

Outside of the dealership she likes to snowboard and read. One little known fact about Charlie is that she is the second oldest sibling out of 8!


KaraLee Canchola
Receptionist
KaraLee was born in Boulder Colorado but she has lived in Greeley most of her life.

She has been a Harley-Davidson® co-rider for 22 years. Her favorite thing about working at Greeley Harley-Davidson is all the people she gets to meet. She loves spending time with her family and her fur babies Pebbles and Babee.
Sales Department
Taylor Millwater
Sales Manager
Taylor was born and raised in Colorado and loves everything the great State has to offer. His favorite thing about working here is having a happy customer when they leave satisfied. When he's not working, you can find him wheeling in his Jeep, fishing, shooting guns, and camping.
Carl Rogensues
Assistant Sales Manager
Carl has been in sales for over 8 years. His love for motorcycles makes him an excellent salesman!

He enjoys big game hunts, mountain biking, beer tasting and spending time with his fiancee Tiffany.
Caleb Vasquez
Sales Associate
Caleb is a Greeley native. He has been a part of the Greeley Harley-Davidson and Wild West family for 7 months and he loves helping people achieve their dreams.

He enjoys golfing, playing video games and spending time with friends. Caleb has a lovely fiancee who enjoys surprising our staff with delicious baked goodies!
John Carr
Sales Associate
Born in Buford, GA, John has been with Greeley Harley-Davidson and Wild West Motorsports since 2017 and loves to get people on a bike and bring passion to riders. When John isn't here he likes to fish, shoot guns and fufill his own passion for riding! Fun fact about John, he is a twin!
Cody Tracy
Sales Associate
Cody is from Brighton, Colorado. He has been riding motorcycles since he was 4 years old. His favorite part of his job is getting someone on their dream machine. When Cody isn't working and fulfilling dreams you can find him at home with his wife and kids. Cody and his wife enjoy taking long rides.
Gene Lambert
Sales Associate
Gene is from Westville, NJ and has been a motorcyle professiona for 7 years now. One thing he enjoys about working at Greeley Harley-Davidson is interacting with and meeting new customers! When Gene is not working, he love to go riding, watch movies and spend thiem with his wife and fur babies. Fun fact about Gene is that his wife Ashley works in the Sales Department with him!
Parts & Accessories Department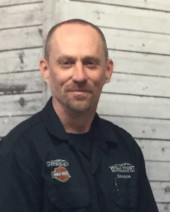 Dewayne Meek
Parts Manager
With over 20 years in the industry, Dewayne's favorite part of coming to work is seeing customers smile. When he's not at work, you can find him spending time with his fiancé Monique and son Nolan, and going hunting and shooting.
Jeff K
Shipping and Receiving
Jeff has been in the industry for 4 years. He loves meeting new people and getting out to ride.
Philip Carney
Parts Associate
Plilip is a 4th generation Colorado native! He has been in the motorcycle industry for over 25 years now and his favorite part about his job is igniting a spark of excitement in his customers when buying new parts! On his day off Philip rides his 2003 Superflide T-Sport, goes fishing and hunting and like cooking and sewing. He also loves spending time with his 2 sons and daughter.
Jeff DeJohn
Parts Associate
Jeff is your Harley-Davidson, Honda, Polaris, and Yamaha specialist. Jeff has been in the industry for 8 plus years and he is great with your customization needs and loves to help drive performance for your bike! On Jeff's days off he enjoys spending time with his three dogs and his cat as well as dirt biking and listening to music!
Service Department
DJ Poole
Service Manager
DJ has been in the industry for 8 years. He worked for us previously then moved out to Arizona before returning to be part of our team.

His favorite things about working here are building customer units with accessories, customer interaction and our staff.

In his free time DJ loves riding Harleys and side-by-sides.
Devin Day
Service Advisor
Devin was born and raised right here in Greeley! He has been in the motorcycle industry for 2 years and has been riding motorcycles most of his life. He is a Harley-Davidson fanatic and truly enjoys being around Harley's all day. When he is not here you can bet he is riding the roads on his Harley!
Jesse Ryan
Service Advisor
Jesse is from Estes Park, CO. He has been in the industry for over 5 years. Jesse enjoys his customers and working as a service advisor. When he is not at work, Jesse and his family like to go riding, camping and shooting. Jesse also works on bikes in his spare time. Jesse has a wife, 2 sons and a daughter.
Aaron Turner
Service Advisor
Aaron's hometown is Laramie, WY. He has a passion for the motorcycle industry and making customers happy. He has been in the industry and making customers happy for 35 years! When he is not at work he likes to go off road racing, go tot he gym and spend time with his dog. He is not too far away from his brother and Dad who live in Fort Collins, CO.
Hobert Bohm
Service Technician
Hobert has been in the industry for 14 years. He loves helping people achieve their motorcycle dreams.

He enjoys spending time with his wife, two cats and pigs and alpacas.
Alex Osborne
Harley Team Leader
I have been part of the Greeley Harley-Davidson® and Wild West Motorsports team for over 10 years. It's been great doing what I love, which is repairing bikes and interacting with the customers and my team. When I'm out of the store, I enjoy hunting and shooting.
Tyler Steggall
Service Technician
Tyler is originally from Glenwood Colorado. He has been in the industry for 2 and a half years as both a Technician and Service Writer. The most favorite part of his job is helping to get riders back on the road again. Tyler is married and has 4 children on his days off he enjoys family time and fishing.
Mason Yeager
Service Technician
Mason is from Drumright, OK and has a passion for working on bikes! Outside of work he enjoys riding motorcycles. Mason is married and has recently welcomed a son into his family.
Jake Geiszler
Service Technician
Jake is from Milwaukee, Wisconsin. Home of Harley-Davidson headquarters! Jake is a service technician and enjoys customizing motorcycles to your wants and needs! Jake has a passion for motorcycling, snowboarding, snowmobiling, hunting, and traveling. Jake has a sweet spot for his English bulldog, Hunter, and his French Bulldog, Harley.


Al Geisick
Delivery Specialist
Born and raised right here in Greeley, Al is a big racing fan. Anything with a loud motor and goes fast is his cup of tea. NASCAR, Formula One, and Drag Racing are among his favorites. The best about his job is getting to meet new people all the time. When he's not at work, you can find him hanging out with his dog and enjoying everything Greeley has to offer!
Jacob Martinez
Lot Technician
Jacob is from Las Animas, CO. Jacob loves to be around bikes, side-by-sides, and ATVs. Outside of work, Jacob enjoys the outdoors and hunting!
Gear and Apparel
Alison Frenton
MotorClothes Associate
Originally from Ohio, Alison has been with Greeley Harley-Davidson and Wild West Motorsports since March of 2018. Alison's favorite part of her job is learning the bikeculture and meeting new people. She enjoys hiking, drawing and watching Netflix. Alison has family in Ohio and Greeley.
Ellie
Intern
Ellie is our Summer intern. Ellie studies cyber security at University of Central Missouri. Ellie will graduate in December 2020. Ellie will primarily be in the Motorclothes department for the summer. If you haven't met Ellie, next time your in stop by Motorclothes and say Hello.
Business Managers
Janet Gilbert
Business Manager
Ashley Lambert
Business Manager